Rectangular Pavement Blocks: Unleashing Versatility and Elegance
In the realm of modern construction and landscaping, the importance of durable and visually appealing materials cannot be overstated. Rectangular pavement blocks have emerged as a prominent choice, providing versatility and elegance that cater to both aesthetics and functionality. In this comprehensive guide, we delve into the world of rectangular pavement blocks, exploring their features, benefits, and the myriad ways they can enhance your projects.
They are celebrated for their adaptability. With dimensions typically measuring 200mm in length, 100mm in width, and a variable height between 60mm to 100mm, these blocks offer flexibility in design and application. Their shape and size make them suitable for various landscaping and construction projects, from driveways and walkways to patios and public spaces.
One of the defining characteristics of our rectangular pavement blocks is their exceptional strength. They are engineered to withstand heavy loads, making them perfect for high-traffic areas such as parking lots and streets. With a strength rating that ranges from 30 to 50 N/mm square, these blocks ensure long-term durability, minimizing the need for frequent replacements or repairs.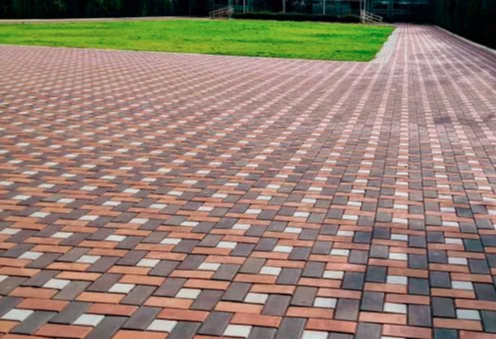 They are available in a weight range of approximately 2.88 to 4.80 kg per block. Their consistent size and weight ensure ease of installation and enhance the efficiency of your construction projects. The uniformity in dimensions guarantees that the final results will be aesthetically pleasing with a seamless finish.
They are like blank canvases for designers and architects. Their clean, modern lines lend themselves well to a variety of design schemes, whether you're aiming for a contemporary look or a more classic appearance. These blocks can be arranged in various patterns, from herringbone to running bond, allowing you to achieve the desired aesthetic impact.
Efficiency is a key factor in any construction project, and rectangular pavement blocks deliver in this aspect. Their regular dimensions simplify the installation process, reducing labor costs and project completion times. With minimal effort, you can create well-defined spaces with a professional finish.
Our rectangular pavement blocks come in a wide array of colors and textures. Whether you desire the warm, earthy tones of natural stone or the contemporary feel of sleek, solid colors, you'll find options that align with your design vision. Textured finishes offer slip resistance and add depth to your landscapes, ensuring both safety and visual interest.
Benefits of our Rectangular Pavement Blocks
Eco-Friendly Solutions:As the world increasingly values sustainability, rectangular pavement blocks meet this demand. They are eco-friendly, made from recyclable materials, and their permeable versions aid in rainwater harvesting, contributing to responsible water management.
Cost-Effective Solutions: Rectangular pavement blocks offer a durable solution that reduces maintenance and replacement expenses over time. The initial investment pays off in the long run, saving you both time and money.

Aesthetics: Our pavement blocks add a touch of sophistication to any outdoor space. They enhance the visual appeal of your landscapes, making them both functional and beautiful.

Durability: Our pavement blocks are engineered for long-lasting performance. They are designed to withstand heavy loads and high-traffic areas, making them an ideal choice for driveways, walkways, and streets.

Strength: With a strength rating ranging from 30 to 50 Mpa, our pavement blocks ensure stability and structural integrity. This strength is vital for maintaining the integrity of paved surfaces over time.
 Product ID
   10044
   10048
   10046
   10110
   10120
   10130
   10170
   10180
   10190
   10200
      Description
PB 60/30N, grey
PB 60/30N, black
PB 60/30N, red
PB 80/40N, grey
PB 80/40N, black
PB 80/40N, red
PB 80/50N, grey
PB 80/50N, black
PB 80/50N, red
PB 1000/50N,grey 
Dimensions [mm]
  L          W          H
 200     100       60
200      100       60
200      100       60
200      100       80
200      100       80
200      100       80
200      100       80
200      100       80
200      100       80
200      100     100
 Strength [N/mm2]
            30
            30
            30

            40
            40
            40

            50
            50
            50
            50
     PC/m2 [pc]
              50
              50
              50
              50
              50
              50
              50
              50
              50
              50
     Weight [kg/pc]
           2.88
           2.88
           2.88
           3.84
           3.84
           3.84
           3.84
           3.84
           3.84
           4.80